(Last Updated On: 17/05/2020)
In order to have a successful eCommerce website it's important to differentiate yourself from others. To do that there are a few things you can do such as making it easier for your users to search your site, display your products so that they are easy to find depending on the user's preferences, customize your site so that it gives a clear vision of the type of product you are selling etc.
Everything above must be eye-catching, easy to use, simple and preferably fast and effective. It sounds overwhelming but in this article we will show you how to incorporate all the above by using the Astra WooCommerce features and more importantly that it's not so complicated as it sounds.
What are my options with Astra WooCommerce?
Depending on your preferences and aspirations, you can use the Astra free theme or add some extra paid options with Astra Pro Addon plugin.
Both versions are highly customizable so which one you'll choose will be completely up to you, but maybe we can help with that decision by listing and explaining some features in the following text.
Astra free theme
Now before we begin with the fun stuff you are probably wondering how adaptable Astra is for WooCommerce? The answer is very adaptable. Astra has inbuilt integration for WooCommerce and therefore provides full compatibility to your store. The only thing you need to do is to make sure you have your WooCommerce plugin installed and activated and your Astra Theme and you're ready to roll.
Astra WooCommerce settings are combined with WooCommerce Default settings in the Customizer where you can now find the WooCommerce panel which takes you to further options.
From there, you can easily customize your store.
You can choose content width by using a default or custom option, set the number of columns and the number of products you want to display in order to list products on all devices and even structure your products which you can later move or disable.
Under Single Product Page you can disable breadcrumbs from appearing or,, Cart Page" where you can choose to enable upsells if you wish to display upsell products.
You can manage your Main image and Thumbnail image width options and you can also control your sidebar options on WooCommerce pages which include Shop, Cart and Checkout.
Last but not least, you need not worry about losing your originally set colors or fonts because as we mentioned at the beginning all your previously set WooCommerce elements automatically adapt with the newly added Astra features.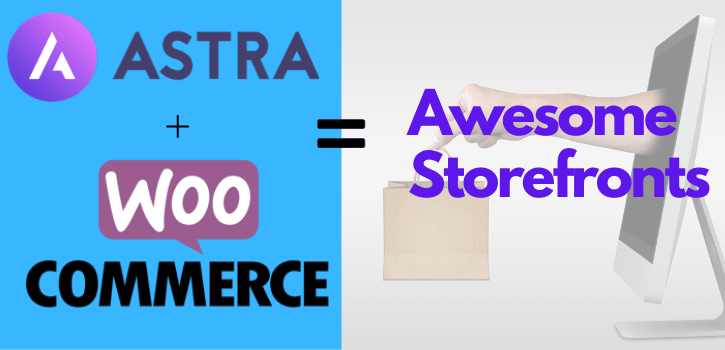 Astra Pro addon
With the Astra Pro addon you get everything mentioned above in the free version but with some enhanced features which provide even more control over your store designing.
Decide the way you want your sales to look. You can choose a default form of a small sale circle or customize it by showing the discount percentage instead of the price.
There are also four styling options you can choose from such as Circle and Square that are filled with a color of your choice or you prefer the simpler outlined look that you can get with a Circle or Square outline.
Grid and List view style of products
Choose your layout by using the Grid view where the product picture takes center stage and below you have the price, sale price and other product – related information or the List view where the product information and pictures are shown side by side.
Enhance your individual product page customization with; Product image gallery layout, Breadcrumbs, Add to cart styling, Product navigation and Related and Up – Sell products.
Whether you want to enable just a quick view or stick an add to cart button along with it there are a few options you can choose from.
Separately displayed Billing details and Your order section, now the customer can proceed to checkout entering billing information plus an optional order note. You can add a Coupon Field at the top at the checkout page or decide to disable it.
At the end you have a Distraction Free Checkout which when enabled suspends the menu in the header and the footer.
You can choose to show the Off Canvas Sidebar in a few different ways like the link in the form of a three line menu or the button option which is shown with the default theme color and styling applied. Once you have chosen your Sidebar look you can customize where you want it to be shown on the website. The trigger for Off Canvas Sidebar can be placed in the header, above header, footer or anywhere else depending on your requirement.
Is there more?
Yep… In addition to everything mentioned, we enabled you the opportunity to bring your creativity to the next level.
Whether you are lacking ideas at the moment, need inspiration or just want to get down to business and not waste time on deciding, we prepared some Starter Templates for you to choose from. It doesn't even matter which page builder you are using because the templates are available for builders such as Elementor, Beaver Builder, Brizy and the WordPress default editor Gutenberg.
You are also able to flash your website on all devices such as mobile, tablet and desktop devices because Astra theme has options for all of them.
Additionally, some researches have shown that with most customers you have exactly 3,2,1… seconds for your page to load before they leave it. Fast right? In that small amount of time, you must make sure that your page is fast and engaging.
With a clean and optimized code Astra ensures blazing-fast loading time and is an SEO friendly WooCommerce theme with a built in schema support which helps search engines better understand what your website is about to display relevant results to the end-users.
So basically, what you get with Astra is a faster performance, easy customization, pixel perfect design and deeper integrations.
As mentioned before Astra is a free theme but you also have the Astra Pro addon option that pays extra. In the following text are the pricing options.
| | | |
| --- | --- | --- |
| Option | Price | Special price |
| Astra Pro | $59 | – |
| Mini Agency Bundle | $276 | $169 |
| Agency Bundle | $523 | $249 |
One-time Lifetime pricing
| | | |
| --- | --- | --- |
| Option | Price | Special Price |
| Astra Pro | $249 | – |
| Startup | $996 | $499 |
| Agency | $1893 | $699 |
**Annual and lifetime customers get access to one-to-one support, extensive training and unlimited website usage that include in-depth articles, video tutorials explaining each feature, 24/7 dedicated email support and a Facebook group with 10 000+ active members.
Shall we?
Now that we've explained everything there is to know your job is very simple, and that is to make your life easier with using these features. Why wait and maybe miss a great business opportunity when you can have your website up and running in just a few simple clicks. Jump into it and give yourself a bright opportunity.
For further information or just a few simple reminders, we invite you to visit website here and see it for yourself.